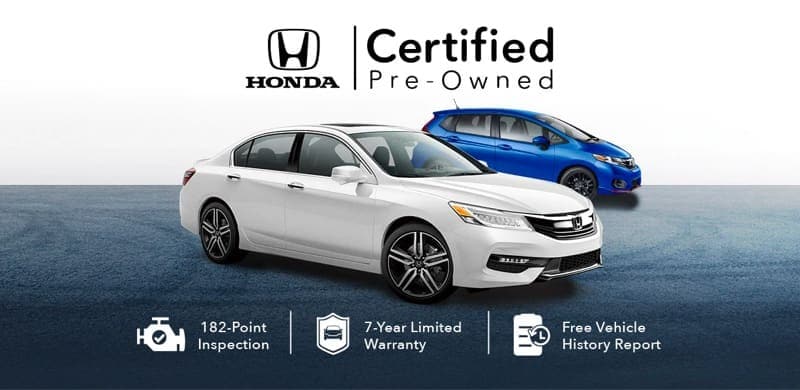 Certified Pre-Owned
Nothing compares to the quality of a Honda. No other program comes close.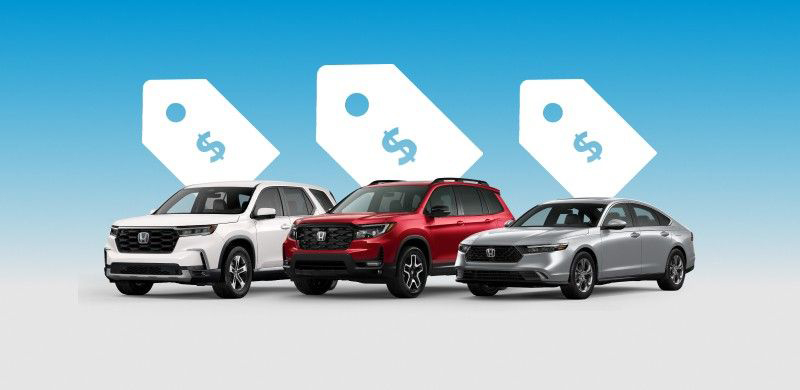 Current Offers
See this month's featured current offers going on now on new Honda vehicles.
Dahl Honda Reviews
Eugene was fantastic, Jake was great and the sales manager very accommodating. They were professional, helpful and good to their agreement. Would definitely recommend them. Pleased Ed Barrington
My car has had 2 checkups here since we moved to the area. They have both gone well. My last one reported I had a bad battery,it had been replaced 31 months earlier. I had saved the paper work and they honored it and replaced my battery for free. Their services are reasonable priced.
I'd researched Honda Pilots for a week. Found the one I liked Dahl. Great experience. Thank you Jaime.
I highly recommend Eugene Reckard when purchasing a vehicle from Dahl Honda in Onalaska. Eugene took the time to explain all the options on our Honda Pilot we purchased. I appreciated his non-pressure sales approach. It made buying a car a pleasant experience.
Taylor did AMAZING work cleaning the buildup on my 2018 Fit's fuel injectors. It is running so much better that I drove 4 hours yesterday on a half tank of gas.
Very professional! Very clean! They replaced the drive belts on my Honda and flushed the transmission fluid and replaced! Reasonable prices!
Excellent experience with Davon, Eugene and Jake with our purchase. They were professional, informative, friendly and low pressure.
Took a look at Dahl online inventory and spoke with Ben W. He was very helpful and, although we couldn't end up finding a fit for the family cruiser, his knowledge and helpfulness was very insightful. Great guy to work with and will revisit in the future.
Kudos to Dahl Honda in Onalaska WI. Everyone at the dealership has been super friendly since I bought a 2013 CR-V in 2015, and I've been going there for service ever since that time. I recently purchased a new 2022 Honda CR-V and was assisted by sales consultant Jennifer Leach, who was fantastic in every way. She was extremely helpful and we felt like friends by the end of it all.
I just purchased a vehicle and from the moment I walked in the door until I left with my new car was great! Eugene, Jordan and Kevin are all amazing!
We purcahsed our Honda Pilot from Dahl Honda and Jen Leach was super helpful. She was very informational and walked us through the process of purchasing our car.
i bought my Civic Sport from here with the help of Jordan Swift and had a great experience! it felt like everything was explained to me in a way i could understand, i didn't feel pressured to make any decisions, and all options were explained very honestly and transparently to me. the entire staff was incredibly friendly, and i truly felt like i was getting the best deal and treatment i could've gotten. it felt like the experience was in my hands, rather than having my decisions steered by the salesman. fantastic customer service.
Jen Leach is a very kind and generous person. Her honest and transparent professional personality will leave you feeling satisfied and happy with your experience. She goes above and beyond by meeting all your needs and following up to make sure you are content.
I needed a new battery and Colin got me in right away without an appointment. Thank you very much for the great service!!
Upgraded to a Honda CR-V and couldn't be happier. The sales process was very quick. I believe just over 2 hours. My sales person was Jen Leach. She was wonderful! I look forward to my next purchase, which will probably be a couple years, but hopefully she will still be there when I do.
This was my first time buying a vehicle from a dealership. Jen Leach was fantastic. I told her exactly what I was looking for, my "requirements". She was able to assist me the entire way. She made the process easy and efficient. She was kind and patient with us the entire time. I cannot recommend Jen and Dahl Honda enough!! Thank you for all your help, Jen! The vehicle is perfect!
Prompt service. Comfortable waiting area. Inspires trust and confidence.
Great service, friendly staff.
I recently had my vehicle in for 2 specific issues. During the week long back and forth, with the service advisor, I became frustrated with Dahl for a handful of inconsistencies and communication breakdowns, in which made me think I was being taken advantage of. I've had a few bad experiences with Honda Motorwerks/Dahl Honda in the past, so I was hyper sensitive to having to get warranty work done at Dahl. It was a perfect storm for disappointment. After a brief chat with Pete, the Service manager, he informed me that his team is somewhat new, thus intercommunication and workflow is still getting ironed out. Any other day, I would take it as an excuse, but I do believe him. I do believe one of the employees involved in my poor experience, was trying their best that week and that they were new. It is quite feasible that my bad experience was due to a team learning curve combined with my over sensitive expectations. Anyways, The service manager was very friendly and he let me express my concerns uninterrupted and then went way above and beyond to make sure I walked out satisfied....which I was. Thank you.
Working with Jennifer Leach and all of the team at Dahl Honda has been a very personal and pleasant experience. We will definitely buy from them again.
My husband and I had a wonderful buying experience. Jen and Jake were wonderful to work with, both were very personable and made the process so smoothly. Thank you!
This was my first time buying a car at Dahl, and I am very impressed with the service I received. I called ahead to confirm the car I was looking for was still available and when I arrived the sales associate, Jordan, greeted me at the main door, and the car I had called about was parked in front waiting for me to test drive. The process was streamlined yet still felt customized for my situation. I do live 2+ hours away, but I would not hesitate to go back for future vehicle purchases. I highly recommend Dahl Honda!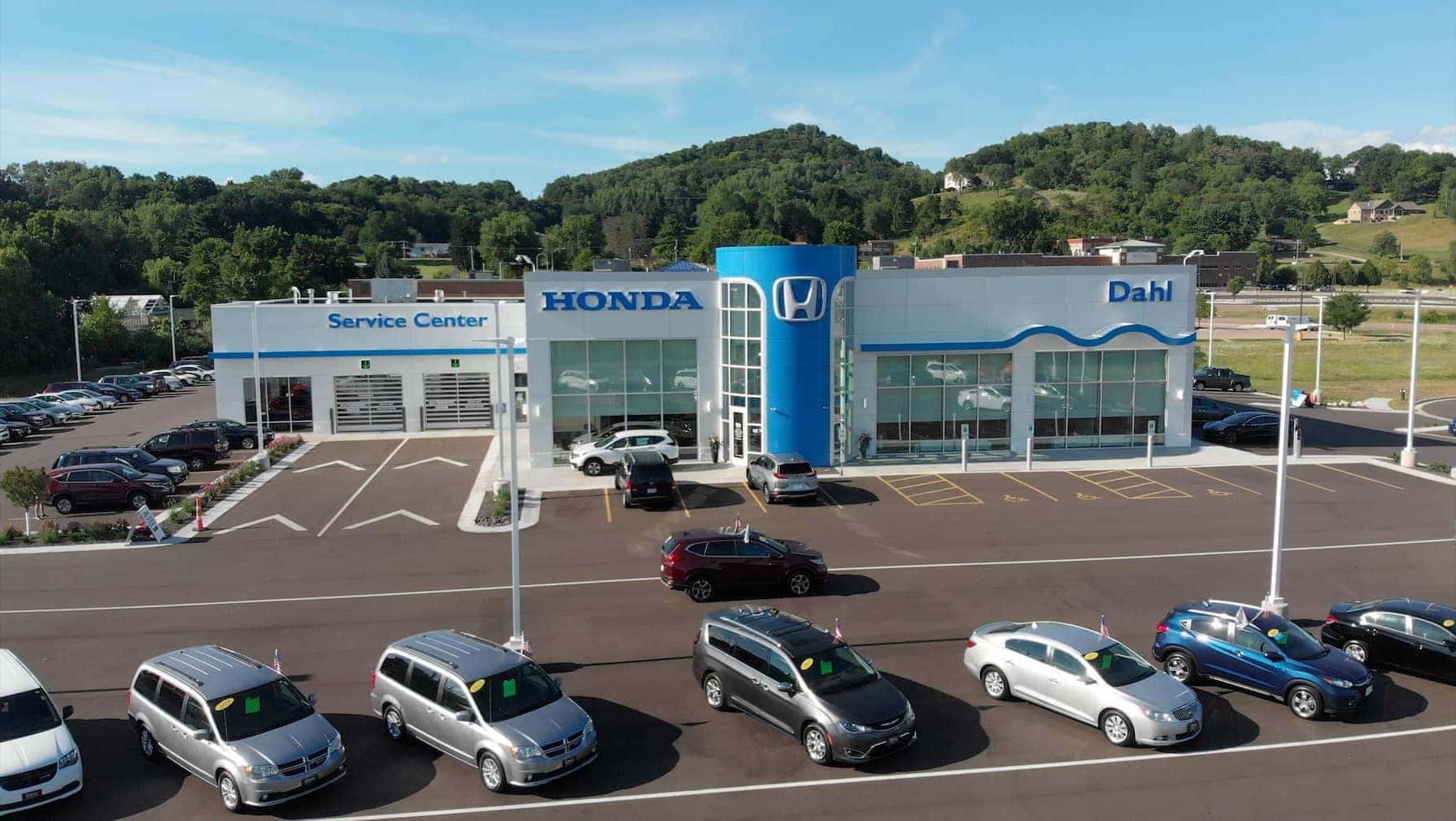 Welcome to Dahl Honda
If you're a Onalaska resident and need a new car, Dahl Honda is here to help you find the vehicle that meets your needs. Although we were only founded in 2019, we are backed by the Dahl Automotive Group, one of the longest-lasting dealership groups in the entire country. Here are a few of the ways we make car shopping easier and why you can trust us to help you find your perfect vehicle.
Picking out your next vehicle can be difficult if you only have a limited selection of models from which to choose. Luckily, when you visit Dahl Honda, you'll have access to a massive selection of new Honda models, including cars, SUVs, and more. We have vehicles in stock to meet every need. If you prefer the smooth styling and creature comforts of a sedan, we have top-notch vehicles in stock such as the Accord. Drivers who want a rugged SUV built for an off-road adventure should check out our selection of CR-Vs, and we also provide the Odyssey for families in need of a spacious, high-tech minivan. Stopping by our lot is also a great choice if you're interested in buying a used vehicle. We provide numerous used makes and models that offer dependable performance and the affordable price tag that you need.
When you're ready to take a drive around Onalaska in a new car, you should pay a visit to Dahl Honda to pick out your next vehicle. We keep the newest Honda automobiles in stock and are also proud to offer an excellent selection of used vehicles. Our team is ready to show you around our inventory and give you advice about which of our cars is right for you.
Whether you decide to buy a brand-new Honda or you're investing in a used automobile, you want to know that your car will run the way you expect every time you crank the engine. If your car doesn't start the way it should or there's a problem with its performance, you can visit our service and parts department for a maintenance appointment. Our service team is one of the best in Wisconsin and can easily help you with whatever problem you've encountered. We are your one-stop resource for vehicle maintenance, so we can help you with both emergency repairs and regular service that will help keep your vehicle running its best.
Once you know which of our new and used models you want to take home, you'll need to get your financing in order. Whether you have a pristine credit history or your credit score isn't quite what it should be, our knowledgeable financing professionals are standing by to help you. Our financing staff knows how to assist customers from all credit backgrounds, meaning you'll be able to purchase your car quickly and easily. One of our team members would be glad to sit down with you to talk about your different financing options and to help you fill out your loan application.
Get Directions To Dahl Honda